**IMPORTANT UPDATE REGARDING 'mini' FAITH FORMATION – November 17** —
**Enrollment Update**
Enrollment for 2021-2022 'mini' Faith Formation year is currently closed. Please watch this space for information regarding future enrollments or email faithformation@saintcabrinicatholic.org to join the waiting list.
**Help Needed**
Due to the more than expected student enrollment in our Inaugural 'Mini' Faith Formation Program, we need more catechists for First Holy Communion Prep and Confirmation Prep classes. If interested in this wonderful new Parish Ministry, please contact our Coordinator, Dr. Joseph Domingues at: FaithFormation@SaintCabriniCatholic.org
**Curriculum Update**
We are currently exploring adding a family formation/independent studies program in December 2021. Watch this space for more information!
Program Introduction
As Christians, we believe the Faith Formation begins at home with mother and father teaching the ways of our faith through prayerful reflections, study, and emulation of our virtues. In the Sacrament of Baptism, parents and Godparents alike commit before God, His Church, and each other to bring the child up to keep God's commandments as Christ taught us, by loving God and our neighbor.
To support this commitment, we are blessed to introduce our 'Mini' Faith Formation Program at Saint Cabrini Catholic Church for the 2021-2022 School Year. This year we have been very fortunate to have Dr. Joseph Domingues coordinating this new Ministry for our parish. Below you will find a bit more information about Dr. Joe and our program for the year ahead.
If you have any questions, please use the Contact page to reach out.
Our Coordinator Dr. Joseph Domingues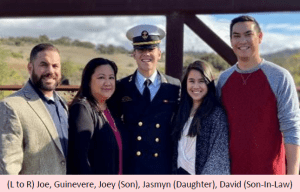 Dr. Joseph M. Domingues and his wife, Mrs. Guinevere Domingues, are
lifelong practicing Catholics currently residing in Lake Nona, FL. After meeting as high
school sweethearts in California, Joseph and Guinevere will celebrate their 28th
wedding anniversary this October. Their daughter, Jasmyn, is a 5th–grade teacher and
resides with her husband, David, in Texas. Their son Joey is entering his third year at
the United States Naval Academy.
Dr. Domingues served as a Religious Program Specialist Petty Officer in the
United States Navy during the 1990's and 2000's. Upon transitioning from the United
States Navy active service, he entered public education in Monterey County,
California. After nearly 20 years of serving as a middle and high school wrestling
coach, history teacher, and principal, Dr. Domingues retired from public education
and entered educational consulting and community volunteerism. He currently
serves as an Instructor for the United States Naval Sea Cadet Corps. Additionally, last
year, he was the 2nd/3rd grade Catechist at Saint Catherine of Siena Catholic Church in
Kissimmee.
Dr. Domingues holds an active CA Clear Social Science Single Subject
Teaching Credential, CA Professionally Cleared Administrative Services Credential, BA
degree in Social Science, an MA degree in Teaching from Chapman University, and a
Doctor of Educational Leadership from the University of Phoenix, School of Advanced
Studies.
Programs Offered
Candidates making their Holy Sacraments:
1st & 2nd Graders: In need of the Sacraments of First Reconciliation & First Holy Communion.
7th & 8th Graders: In need of the Sacrament of Confirmation.
Other Programs Offered:
9th thru 12th Graders: Youth Group.
R.C.I.C. (Rite of Christian Initiation of Children). For those over the age of 7 needing Sacraments. Classes begin October 10, 2021 @ 9:00 AM in the Media Center of Narcoossee Middle School.
R.C.I.A. (Rite of Christian Initiation of Adults). For high schoolers and older needing Sacraments.
Schedule
Schedule
Classes will be held on the 1st & 2nd Sunday of each month from 9:00 a.m. – 10:15 a.m. (except when schools are on break).
Classes will meet in the media center of Narcoossee Middle School.
How to Register
To register, parents/guardians need to-
Bring a copy of Sacramental Certificates your child(ren) may have.
Bring the completed Registration Form that was emailed to interested families. Form also available in person.
Bring Tuition & Sacramental Fees (Exact Cash/Check – credit card not available)

Tuition: One Student: $65.00 / Two Students: $120.00 / Three or more students: $170.00.
Sacramental Preparation Fee:
First Reconciliation/First Eucharist: $50.00 per student;
Confirmation (8th grade and up): $50.00 per student.
Interested in Becoming a Catechist?
We are actively seeking volunteers to become Catechists and to those who may be interested in training to be a Catechist. The success of our program depends on the number of volunteers who are available to assist in this exciting new adventure.
For those interested in becoming a Catechist for our Saint Cabrini 'Mini' Faith Formation Program, please attend our informational meeting on Sunday, August 8, 2021, at 9:30 AM in the School's Media Center. Any questions, please email Dr. Domingues at FaithFormation@SaintCabriniCatholic.org
You have asked to have your child baptized. In doing so you are accepting the
responsibility of training him (her) in the practice of the faith. It will be your duty to
bring him (her) up to keep God's commandments as Christ taught us, by loving God
and our neighbor. Do you clearly understand what you are undertaking?
Excerpt from the Rite of Baptism